Dr. Mercedes Padilla Owner, Pediatric Dentist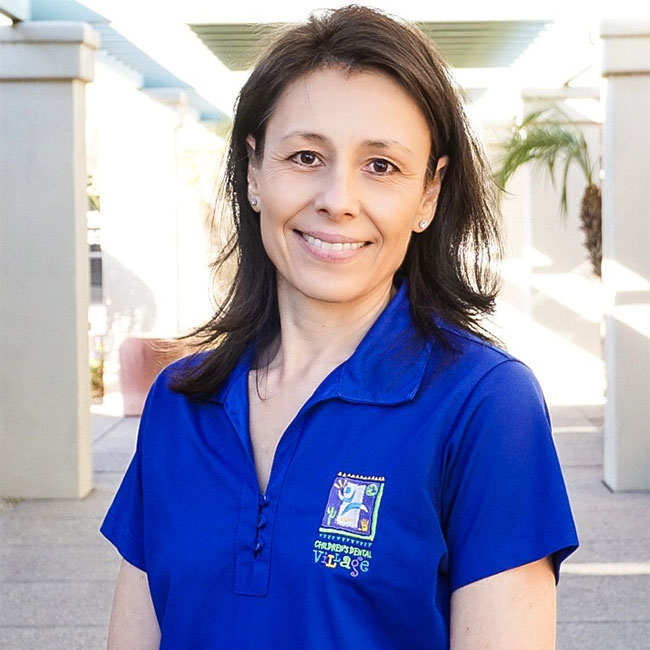 Dr. Mercedes Padilla was born and raised in Los Angeles, California. While on an elementary school field trip, she was fascinated by a dental exhibit at a local museum and from that moment on, she set her sights on pursuing a dental career. Dr. Padilla attended Loyola Marymount University in Los Angeles, California for her undergraduate studies. She received her Doctor of Dental Surgery degree from the University of Missouri, Kansas City and completed her Pediatric Dentistry Residency at The Children's Mercy Hospital in Kansas City.
Dr. Padilla has many passions but she says two rise to the top of her list: dentistry and education. To satisfy her thirst for knowledge, she enjoys membership in the following professional organizations: American Academy of Pediatric Dentistry, American Dental Association, Arizona Academy of Pediatric Dentistry, California Society of Pediatric Dentistry, Arizona Dental Association, Central Arizona Dental Association and Psi Omega Dental Fraternity. Dr. Padilla also enjoys sharing her dental knowledge with local school children. Throughout the year, she offers dental presentations at many of the local elementary schools and gets lots of giggles from the kids as she dresses them up as teeth and shares healthy brushing habits. Dr. Padilla is also highly involved with the Arizona Mission of Mercy, a completely volunteer driven, large scale dental clinic.
When she's away from the office, Dr. Padilla enjoys spending time with her husband and their two daughters. These Tempe residents are always looking to support the local schools and businesses, especially locally-owned restaurants (don't hesitate to offer up some suggestions). They love the great outdoors and enjoy visiting national parks, spending a weekend with family in California or just enjoying a great roadtrip! They are always looking for new places to explore, especially in the Southwest, and welcome any of your suggestions for new places to visit! Dr. Padilla is happy to be an Arizona resident and to serve patients around the Valley including Tempe, Phoenix, Chandler and neighboring areas.