What to Expect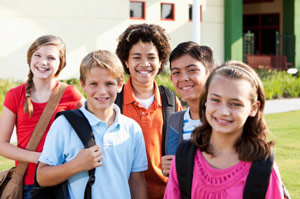 The first question most parents ask is "when should my child be evaluated for braces?" The good news is that patients of Children's Dental Village can receive evaluations as part of their semi-annual checkup.
These evaluations help to monitor your child's growth/development and determine whether treatment is needed now or should be delayed until proper growth, tooth eruption, or other factors have occurred. Because patients differ in both physiological tooth development and treatment needs, the goal will be to provide your child with the most appropriate treatment at the most opportune time.
Orthodontic Records - Once Dr. Lepetich has determined that your child would benefit from orthodontic treatment, an appointment will be scheduled to take impressions of the teeth to create diagnostic models. At this same appointment, we will be taking photographs and x-rays as requested by Dr. Lepetich to assist in determining the appropriate course of treatment for your child. This visit will take approximately 1 hour. For more information, please visit our Orthodontic Records page.

Diagnosis and Treatment Plan - On average, it takes about three weeks to process the diagnostic records. Once the diagnostic file is complete, Dr. Lepetich will review the records and create a treatment plan specifically designed for your child to be presented at your next appointment.

Consultation Appointment - The consultation appointment usually takes 1 hour. With at least one parent in attendance, Dr. Lepetich's Orthodontic Treatment Coordinator, Amber Shelton, will present Dr. Lepetich's recommended treatment plan and answer any questions you may have about orthodontic appointments and financial arrangements. We encourage your child to attend this meeting so that we may answer any questions he or she may have.
Beginning Orthodontic Treatment
The first appointment varies in length based on the specific treatment plan but generally requires one to two hours for placement of the braces with time to review homecare instructions. Due to the length of this appointment, Dr. Lepetich prefers to schedule in the morning or early afternoon.
Follow-up Appointments
After the braces are placed, you can expect to visit the office every 4 to 6 weeks. These appointments allow Dr. Lepetich to monitor progress and make necessary adjustments to the braces. If your child has an appliance, your visits may be more frequent as the appliance is actively creating movement.