Preventive Dentistry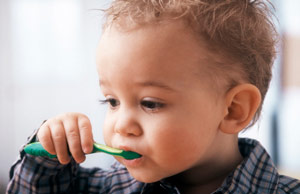 An active approach to your child's dental care is the best way to ensure healthy teeth and habits for years to come. Children's Dental Village invites you and your children to become part of our dental home where you will develop an ongoing relationship with our team that includes all aspects of oral health care delivered in a coordinated and family-centered way.
The American Academy of Pediatric Dentistry suggests that you plan for your child to see a Pediatric Dentist before their first birthday or after their first tooth shows.
Regular Exams and Cleanings – Preventing decay begins when the first tooth erupts. By scheduling regular dental exams twice a year for evaluations and cleanings we can assess the risk of developing cavities and evaluate the growth and development of your child's teeth.
Fluoride treatments - Topical and systemic fluorides are safe and effective when used appropriately and are still considered the most effective method of controlling dental caries (decay).
Digital X-Rays – Children's Dental Village is pleased to offer digital radiography that uses sensors instead of photographic film. The resulting digital images are available immediately to view and help the doctors check in between the teeth for decay, to survey erupting teeth, diagnose bone disease, and treat health conditions that cannot be detected during a visual exam. Digital x-rays also significantly reduce your child's exposure to radiation.
Sealants – While all children benefit from dental exams, cleanings and fluoride, children with permanent molars can further benefit from the application of dental sealants. Sealants are one of the most effective preventive procedures available for preventing tooth decay on the grooved and pitted surfaces of permanent teeth.
Home Care and Education - Throughout the developmental years, the Children's Dental Village team will inform patients and parents about best practices for daily brushing and flossing techniques. Education is also provided to promote a healthy diet that supports healthy teeth and gums.
Space Maintainers
When a primary molar tooth is lost prematurely, Dr. Padilla or Dr. Lepetich may recommend a space maintainer to "save" the space created by the missing tooth. Your child's baby teeth exist to save space for the arrival of their permanent teeth, which should erupt into the position once held by the primary tooth. If a primary tooth requires early extraction due to an abscess or severe decay, a space maintainer is designed to save the space. This space needs to be preserved to prevent other teeth from drifting, which can cause crowding and other orthodontic problems. Space maintainers are unnecessary for front teeth.